List of recipes using "Coconut":
11 recipes
List of recipes using "Coconut"

This is a sort of smoked chicken, cooked in a tomato-coconut sauce, and served with kidney beans and plain rice. It's quite a simple recipe, with ready-made ingredients, but which needs a long cooking time on low heat (one hour).
342K
5
2 hours 4 min. February 21
th
2011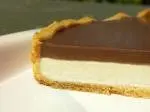 This Bounty-style tart combines, as you might expect, chocolate and coconut in a sweetcrust pastry case.
107K
1
4
1 hour 34 min. June 2
nd
2015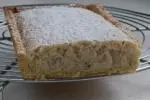 Here's a coconut version of the classic French "croute à thé" cake. The double coconut flavour comes from the sweetcrust pastry as well as the filling.
2,144
52 min. August 29
th
2021

Small coconut cakes, golden, crusty, and soft inside.
304K
3.7
49 min. February 21
th
2011

Delicate tuiles with coconut. Very thin, they are both crunchy and melt-in-the-mouth. Delicious on their own or to accompany an ice-cream or cream dessert, perhaps a sophisticated one like coconut-vanilla cream for Elsa .
276K
4.8
1 hour 12 min. October 13
th
2010

A dessert in three layers: a first of smooth vanilla cream, a second of coconut cream (also very smooth), and to finish, a thin crunchy layer of coconut tuiles. In the spirit of crème brulée: break through the crisp surface layer to discover the smooth melting coconut and vanilla creams beneath. A...
188K
3.8
4 hours 58 min. February 21
th
2011

You will no doubt be familiar with Bounty, the chocolate-covered coconut bar. Here's a melt-in-the-mouth version "on a plate" for a chic dessert.
126K
4.6
1 hour 54 min. August 1
st
2011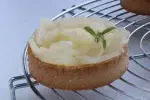 Crisp, coconut sweetcrust pastry cases, a velvety diplomat cream flavoured with verbena, and slices of poached pears for delicious and dainty pear verbena tarts.
6,048
2 hours 29 min. February 21
th
2021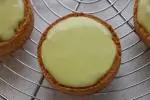 This recipe for dainty tarts has sweetcrust pastry (preferably with coconut) cases, filled with sautéed Victoria pineapple and topped with a lime crémeux.
4,431
21 min. June 27
th
2021

Similar to marzipan or walnut paste, coconut paste can be used in a variety of cake or sweet recipes, but you can enjoy munching it just as it is.
226K
4.5
15 min. October 13
th
2010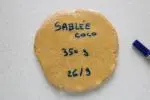 You might already be familiar with sweetcrust pastry (pâte sablée) which contains a small amount of ground almonds. This is the coconut version, made with dessicated coconut, ideal for tarts with a more exotic flavour.
15K
13 min. October 25
th
2020