List of recipes using "Green bean":
5 recipes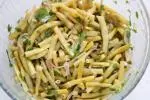 A very simple recipe for a salad of green (or yellow) French beans: The beans are boiled first, then thoroughly drained and served mixed with herbs, chopped shallot and a good vinaigrette (french dressing).
5,595
4.6/5 for 14 ratings 35 min.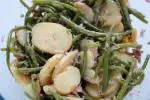 This rustic traditional dish (literally "peasant salad") combines cold sliced potatoes and green beans (cooked separately) with chopped red onion and fried lardons. The salad is finished with a vinaigrette dressing and parsley, or your choice of herbs.
233 17 min.

Pieces of white fish rolled in thinly sliced smoked ham. These rolls are cooked in a little olive oil and served with French beans. The pairing of smoked ham with fish might seem a little strange, but in fact these flavours marry well.
86,969
4.9/5 for 18 ratings 54 min.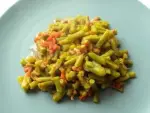 Cut green beans simmered with tomatoes and mixed with onions and lightly fried lardons (or small pieces of bacon).
28,261 1
4.7/5 for 20 ratings 1 hour 38 min.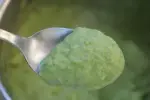 Green (or French) beans are usually served whole, for instance as an accompanying vegetable or in a salad, but they make a good purée, too. This is tasty on its own, but also goes very well with meats, and children usually prefer it to "normal" beans.
1,573 48 min.