List of recipes using "Hard boiled egg":
2 recipes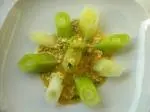 A classic dish of French family and bistro cooking. It's both simple and good. The secret lies in cooking the leeks until they are only just tender, so that they keep their lovely green colour. The special vinaigrette includes herbs and hard-boiled eggs.
37,221
4.3/5 for 15 ratings 45 min.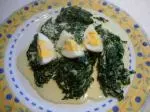 Fresh spinach, simply wilted, reheated in a sauce of thickened cream with shallot, and served with quarters of hard-boiled egg.
66,561
3.8/5 for 17 ratings 1 hour 43 min.