List of recipes using "Ramekin":
6 recipes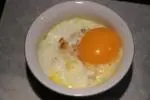 A classic recipe for baked eggs (œufs cocotte), cooked in ramekins with a base layer of spinach and diced chicken.
141
4/5 for 1 ratings 27 min.

A light delicious and quickly prepared dish, an easy and elegant answer to the frequent question "what are we going to eat this evening?". Here is version with Comté (a famous cheese from eastern France, like gruyère, but much better), but it can be made prepared many different ways.
109,160
4.3/5 for 20 ratings 1 hour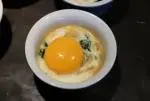 A buttered ramekin, a layer of mushrooms, a layer of spinach, a little cream and an egg added on top in two stages.
27,879
5/5 for 13 ratings 1 hour 30 min.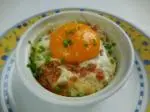 Eggs cooked in small ramekins with a tasty mix of peas, bacon, onion and cream - even more French than the classic version!
16,624
4.6/5 for 14 ratings 31 min.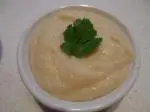 This recipe features a rather unexpected combination that works really well: the distinctive flavour of Jerusalem artichoke with the richness of foie gras. The Jerusalem artichokes are puréed with potatoes. This is serves hot mixed with very cold diced foie gras. The combination of flavours and...
10,043
4.1/5 for 16 ratings 1 hour 10 min.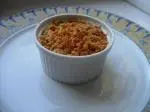 A small ramekin filled with sausage sandwiched between two layers of cooked mushrooms, topped with a savoury crumble made with cancoillotte (a cheese typical of eastern France). All the French region of Franche-comté is in this recipe: Morteau sausage, cancoillotte cheese, and Jura white wine.
87,533 2
4.6/5 for 14 ratings 3 hours