List of recipes using "Scrambled":
4 recipes
List of recipes using "Scrambled"

These look like perfectly normal boiled eggs, but when the shell is cracked open - surprise! They contain a mixture of scrambled egg, cured ham, fried prawns and chives.
144K
5
51 min. September 26
th
2010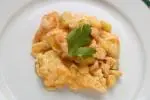 For this dish, the langoustines and asparagus tips are sautéed bafore being mixed with the beaten eggs and finished like scrambled eggs.
16K
50 min. August 28
th
2019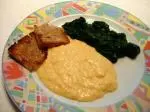 Fresh spinach, butter-fried bread and scrambled eggs: simply delicious.
269K
3.8
2 hours March 18
th
2013

French-style scrambled eggs are rather special. It's not very difficult, just a bit long because it's cooked slowly in a bain-marie. Eventually you will get a delicious, refined and delicate preparation which can be eaten "as it is" or added to another recipe.
240K
5
30 min. February 21
th
2011