List of recipes using "Scrambled egg":
3 recipes

These look like perfectly normal boiled eggs, but when the shell is cracked open - surprise! They contain a mixture of scrambled egg, cured ham, fried prawns and chives.
49K
5
51 min.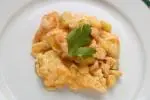 For this dish, the langoustines and asparagus tips are sautéed bafore being mixed with the beaten eggs and finished like scrambled eggs.
2,727
50 min.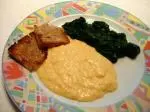 Fresh spinach, butter-fried bread and scrambled eggs: simply delicious.
109K
3.8
2 hours