List of recipes using "Sweet crust":
10 recipes
List of recipes using "Sweet crust"

Amandines are small sweetcrust pastry tarts filled with fruit and topped with almond cream. Here's a rather more sophisticated version made with stewed apple, rice pudding and almond cream.
162K
3.7
1 hour 10 min. March 1
st
2012

A shortcrust pastry case baked with pistachio cream, then topped with Griottine cherries.
157K
2
5
1 hour 20 min. July 4
th
2010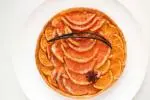 This is an unconventional tart, though the recipe is quite simple: no cream filling in the bottom, just slices of lightly poached fruit in a sweetcrust pastry case.
12K
2 hours 31 min. July 8
th
2020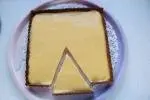 Lemon tart is one of the great classics of French patisserie. The are lots of versions with different kinds of pastry and filling. This one uses sweetcrust pastry (pâte sablée) and lemon curd as the filling. Just top with meringue for that other classic: lemon meringue pie.
31K
5
3 hours 21 min. March 23
th
2016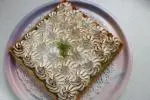 For this delicious tart, you will see how the crisp, sweet pastry is the perfect foil for the distinct taste and slight sharpness of the lime filling and, of course, the smoothness of the Italian meringue topping.
18K
1 hour 54 min. July 1
st
2018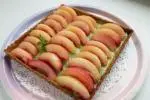 This refined tart combines peaches with the delicate flavour of green tea. The sweetcrust pastry case is baked blind, then filled with a green-tea custard and topped with slices of poached white peaches.
29K
5
1 hour 11 min. October 2
nd
2016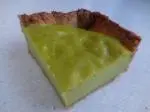 Similar in texture to a classic rich French custard tart, this version has the same sweetcrust pastry case, but the filling has a delicious pistachio flavour, rather than the normal vanilla.
77K
2
4.3
1 hour February 8
th
2015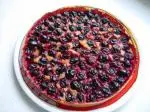 This tart made with sweetcrust pastry and almond cream is especially tasty with those rather sour little plums that can be found in such profusion in late summer.
187K
4.9
2 hours 37 min. September 6
th
2017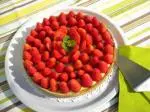 For this great dessert classic: a sweetcrust pastry case, vanilla confectioner's custard and the best strawberries available. This recipe is simple yet demanding, but the result is an exceptional tart.
103K
4.6
2 hours 30 min. June 16
th
2013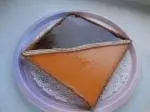 This tart, with its twinned chocolate and orange flavours, is a bit fiddly to make. The fillings are fairly straightforward (classic chocolate ganache and orange curd), but it is tricky to ensure that the fillings do not run into each other. You will need to make a divider but, as you will see, this...
40K
5
2 hours 35 min. April 15
th
2015