List of recipes using "Tarragon":
3 recipes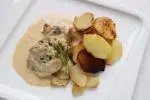 Medallions of filet mignon (pork tenderloin) are first pan-fried, then kept to one side. The same pan is used to prepare a cream sauce with tarragon and strong mustard. The medallions are returned to the pan to finish cooking in the sauce while it thickens on low heat, keeping the meat beautifully...
4,535
3.8/5 for 11 ratings 1 hour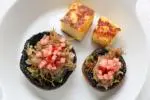 In this recipe, the mushroom caps are first sautéed, then filled with fried onions and a spoonful of rillettes, then baked in the oven. Here they are served with a quick pickle made from brunoise radishes with tarragon.
3,666
3.8/5 for 17 ratings 58 min.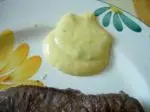 This very tasty sauce, flavoured with tarragon, chervil and shallot, with its hint of acidity, is perfect for grilled fish or meats. Its well-known as a difficult sauce, but here are all the tips that you need to succeed.
103,524
4/5 for 1 ratings 1 hour 6 min.