List of recipes using "Turnovers":
2 recipes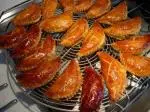 These are small apple turnovers ("chaussons") of puff pastry, filled with a mixture of caramelised almonds, stewed apple and rum-soaked raisins. To be eaten just as they are...
78,393
3.8/5 for 17 ratings 1 hour 31 min.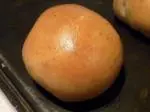 These are small stuffed bread turnovers (similar to calzone), made with fougasse dough and filled with bacon, mushrooms, onions, cheese and tomato sauce. Lovely and golden-brown after baking, they are best eaten hot or while still warm.
25,211
5/5 for 13 ratings 3 hours 45 min.