List of recipes using "Dices":
8 recipes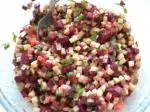 For this fun salad, all the ingredients are cut into small dice, hence the name.
13,899
4.3/5 for 15 ratings 49 min.

As an appetiser or starter, little thick soft omelettes, with diced tomato, courgette and smoked ham.
68,222
4/5 for 1 ratings 1 hour 10 min.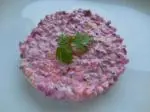 This amazing recipe from a great chef is surprisingly straightforward to make. You will need lots of different raw vegetables. These are diced really small, then bound with mayonnaise.
15,322
4.3/5 for 15 ratings 49 min.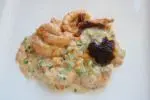 This elegant gratin has a layer of brunoise vegetables in the bottom, with langoustine tails (scampi) cooked in two stages on top, finished with a thick creamy sauce, made with the "fumet" from the langoustines. This recipe is quite long to make, but can be prepared in stages over a number of days....
6,340
3.9/5 for 20 ratings 2 hours 15 min.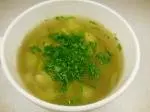 In this "country" (paysanne) style soup, the vegetables are left in small pieces, rather than blended.
12,433 1
4.3/5 for 15 ratings 1 hour 11 min.

Risotto is one of the many delights of italian cooking... Here is a version with vegetables cooked separately, and their stock used to cook rice. Delicious, as you will see...
96,577
5/5 for 1 ratings 2 hours 53 min.

Fresh grapefruit and / or pears, covered with a sabayon and a pinch of citrus crunch.
80,726
4.7/5 for 20 ratings 55 min.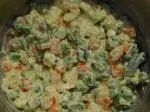 A macédoine is simply vegetables diced small (carrots and turnips) or cut small (green beans) with peas. The different vegetables are cooked separately in salted water, then thoroughly drained. They are only combined at the end in a mayonnaise dressing.
29,987
3.8/5 for 5 ratings 1 hour 24 min.