List of recipes using "Powder":
3 recipes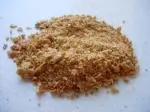 These are fine crumbs of candied citrus peel. It can be used to sprinkle a dessert or other preparation to add both crunch and the flavour of the chosen citrus fruit. It is easy to prepare well in advance, and will keep in an airtight jar. This recipe is given for clementines, but can be made with...
68,461
3.7/5 for 20 ratings 1 hour 16 min.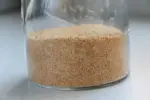 The crispy crust on many fried (or baked) foods comes from a breadcrumb coating. You can buy this, of course, but it's easy and much better to make your own at home. For one thing, you will know excatly what's in it – just bread – which is not the case for the commercial product. This is also a...
2,401
1/5 for 1 ratings 1 hour 7 min.

"Dusting" in cooking is sprinkling a very fine layer of something in powder form. Icing sugar or cocoa powder on cakes for example. As this is not very easy to do evenly, here is a way to do it.
21,892
5/5 for 1 ratings 2 min.