List of recipes using "Color":
3 recipes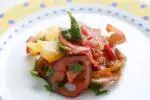 This end-of-summer recipe is very simple: just fresh tomatoes with chopped shallot and herbs in a vinaigrette, but we can play up the variety of flavours and colours to make it something with real eye appeal and, above all, delicious!
27K
4.3
20 min. September 21
th
2016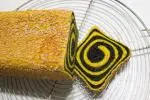 This amazing-looking loaf uses a basic sandwich bread recipe, but half the dough is coloured yellow with turmeric, the other half black with squid ink. The two colours are then rolled up together to give the spiral effect you can see in the photo. The outside is coated with sesame seeds. This...
26K
4 hours 13 min. February 6
th
2019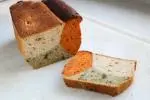 This loaf for "the girls" in three colours is made by putting together three doughs, each with a different flavour: tomato for the red, pesto with olives for the green and onion for the white. The three different doughs fuse as they rise together in the tin before cooking, to produce an unusual...
32K
4.6
4 hours 6 min. December 30
th
2019