List of recipes using "Feuilleté":
4 recipes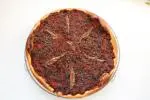 This savoury tart is a traditional speciality around Nice, on France's Cote d'Azur. Originally, pissaladière had much in common with its Italian cousin, the pizza, but made with onions, anchovies and olives, and without tomatoes. This is a slightly different version, more friable (with a...
4,492
3.8/5 for 17 ratings 1 hour 38 min.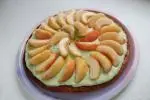 In French, a "feuilleté" can be anything, sweet or savoury, wrapped in or with a base of puff pastry, from a sausage roll to a millefeuille. This is an elegant tart-style feuilleté with a caramelized pastry base, topped with a light custard flavoured with verbena. This is based on a confectioner's...
4,208
4.1/5 for 16 ratings 2 hours 23 min.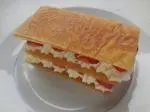 A millefeuille (which in french means "thousand sheets") is a delicious pâtisserie consisting of layers of puff or flaky pastry (pâte feuilletée) sandwiched together with cream, fruit, etc. In this recipe, we will be using sheets of caramelized brik or filo, which makes a delicious, light...
10,634
5/5 for 1 ratings 48 min.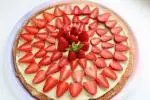 This elegant French dessert is not quite a tart. The base is a circle of puff pastry baked and caramelized, then topped when cold with a thin layer of lime-flavoured confectioner's custard and beautiful fresh strawberries.
5,214
3.8/5 for 11 ratings 43 min.