List of recipes using "Knife":
3 recipes

These chips (French fries) are made from potatoes steamed then fried in their skins. Usually we make big ones (3 times the usual French fry) and serve 2 or 3 per guest.
76,068
4.1/5 for 16 ratings 1 hour 19 min.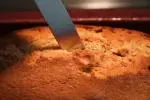 It's a frequently asked question and it's not so easy to answer it, especially for beginners: you can have a cake that's nice and golden brown outside, but which is not cooked enough in the middle.
17,724
4.3/5 for 15 ratings 1 min.

When you cut something into small pieces on your working surface, it's an automatic gesture to push the pile with your knife blade. It's a bad habit because this will blunt your blade.
11,176
5/5 for 2 ratings 1 min.