List of recipes using "Shrimps":
2 recipes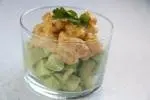 Just a classic prawn cocktail with avocado? Oh, no! The prawns in this recipe are sautéed briefly to enhance the flavour, then mixed with a curry mayonnaise.
6,927
4.3/5 for 15 ratings 30 min.

A very refreshing starter, containing prawns and smoked fish.
76,300
5/5 for 1 ratings 54 min.