List of recipes using "Slices":
5 recipes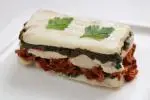 This terrine is made up of alternating layers of fish fillets with spinach and preserved tomatoes. It is cooked gently in the oven, then served in slices (yes, it really is a kind of terrine) with hollandaise sauce, for example.
399
5/5 for 1 ratings 1 hour 52 min.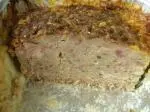 Here is a personal version of the famous country pâté. It's an interesting recipe to prepare in large quantities because it keeps well and freezes easily. The secret of a good pâté is of course the ingredients, but also how it is cooked.
115,438 2
3.7/5 for 3 ratings 7 hours 54 min.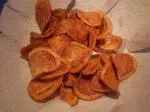 Making your own potato crisps (or chips, if you are American) is quite easy. All you need to do is slice potatoes and fry them. That is all well and good in principle, but there are a few tips it is important to know. I'll explain them for you in this recipe.
15,820
3.9/5 for 12 ratings 26 min.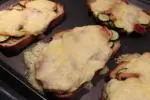 These toasted slices are topped with sautéed vegetables (courgette and mushrooms), covered with a slice of smoked ham and then slivers of cheese. Once the cheese is melted and browned in the oven, the slices should be served piping hot.
3,916
4.7/5 for 19 ratings 58 min.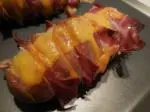 These "wallets" are potatoes boiled in their skins and sliced part-way through after cooking. The slots are filled with slices of cheese and grilled bacon and the potatoes are then baked for a few minutes the oven.
11,419
4.1/5 for 10 ratings 1 hour 4 min.